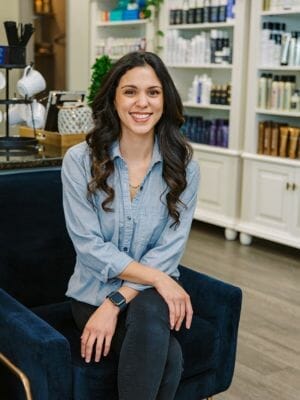 Yorktown Apprentice
Greetings humans, I'm Angie and I assist and apprentice at SBD during the day then bartend at Schooners grill at night. One night while serving one of the owners, Ann, sat in my section. Ann liked my personality and asked me if I ever thought about doing hair. This one question changed my life. I simply replied, "No, but I can start!" I was open for a different opportunity for a while and Ann recruited me that night. I felt my prayers were answered. My main mission in life is to achieve success and to help and serve others. I hope to accomplish that to the best of my ability as a stylist, colleague, and as a person as I learn, grow, and further my career in life. Everyone has rough times so bringing a smile and confidence to a client gives a good sense of accomplishment and satisfaction when they leave. Sometimes the little things to matter. Stay tuned for more on my journey to becoming a Stylist!
FAVORITE BEVERAGE ORDER: Thai Tea - if you haven't tried it, stop what you're doing and go get one!
PRODUCT PICK: Oligo Cleanser + 18 in 1 and the new L+F curl cream
FREE TIME ACTIVITIES: I enjoy attending church, strength training at the gym, and chasing my two hooligans (kitties) around the house. I am big fan of Star Wars and historical dramas, and going on motorcycle rides.
INSTAGRAM HANDLE: mae_thehairbewithyou