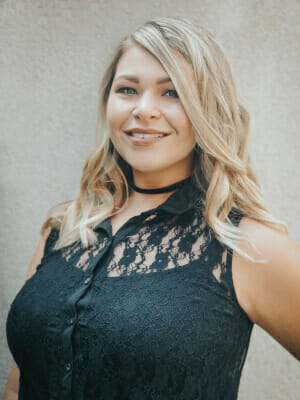 Stylist in Yorktown
Shelby Wightman's passion for creative expression led her to the beauty industry when she started as a stylist's assistant which lead to an apprenticeship in 2017. A native of Newport News, Shelby loves Hampton Roads because she is a short drive to the ocean or the mountains. Culture, art, and nature serves as her inspiration. Shelby creates lived-in looks, ranging from rich colors, natural tones, and bright, diffused blondes. She is passionate about creating shape within a hairstyle. Her goal for any client is to maintain hair vitality while realistically achieving "hair goals."
FAVORITE BEVERAGE ORDER: Iced tea of any kind, hold the syrup
PRODUCT PICK: Oligo Shine Drops and R&Co Trophy Texture Spray
FREE TIME ACTIVITIES: Long walks in the beach, desert, or deep woods- as long as she gets a dose of wilderness as well as fossil hunting, hiking, dance and music.
INSTAGRAM HANDLE: @shelbypaintshair